Daniela Feeser
An interview with the Talent Management Team Leader
Ms. Feeser, could you tell us something about yourself to begin with?
With pleasure, … I grew up near Ravensburg and, after high school, I completed a dual studies program in business administration. To be honest, I always wanted to do something involving figures… but I noticed pretty quickly during my studies that dealing with people was a lot more fun, and that I liked working in a team. I also realized that engaging and interacting with other people was very important to me. And, following my studies – and with a little luck – I landed directly in human resources.
What do you find most appealing about EBZ?
I'm always impressed by the level of cohesion and team spirit at EBZ. We look for employees who want to contribute and are not satisfied with 80%. And it's really palpable in the company. Anybody who wants to get on can develop rapidly and is granted a great deal of freedom. Despite this, everyone sticks together and pursues the same goal. Personally speaking, I value this immensely. I've been with the company for 15 years, and I was always encouraged to shape my area of activity and contribute my own ideas. And, right up to now, I can safely say it's never once been boring :-)… I enjoy changing and shaping things greatly – and even more in such a wonderful team.
What do you consider important when developing and implementing personnel development measures?
Hmmm… that's difficult to describe in a few words. I find it important for employees to gain as much as possible from each measure, along with individually adapting the content to the requirements of individual participants and, naturally enough, to the aims and objectives of the company. If, following a training measure, someone comes to me and says "Hey, I got a lot out of that, and it really addressed our operational issues," this means we've done everything right.
Insider tip: Are there any typical personality traits that you particularly value in EBZ employees?
One of our external trainers frequently says that "employees at EBZ all have their hearts in the right place," and I think that captures it perfectly. I'd describe our employees as very down to earth. You can tell that they enjoy technology and the product itself. Naturally enough, all that glitters is not gold, and you do get stressful moments, and maybe even controversial discussions… but the aim is, ultimately, to always find the best solution together, then we can all celebrate it together!
Is there anything that employees normally do not realize about you?
Oh, without a doubt…, for example, I'm a real morning grouch. Getting up early in the morning just isn't my thing. My partner is always on his way to work just after 6. It's the ideal combination for us, because I don't need to talk to anybody first thing in the morning, and I've got my peace and quiet. But I make up for it by being really talkative in the evening :-).
Would you like to network with me?
Contact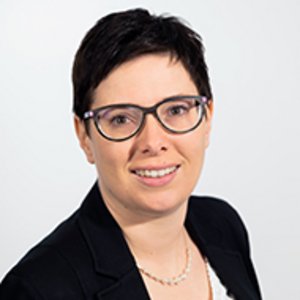 Daniela Feeser
Talent Management Team Leader