Assembly of fuel cells
Planning, design and realization of automated assembly systems for fuel cells and fuel cell stacks
Electricity is generated in a fuel cell from hydrogen and oxygen derived from ambient air, and this energy can be used in applications such as powering motor vehicles. Stacking of 300-400 fuel cells creates a fuel cell stack. This generates a capacity of approx. 120 kW / 160 hp. The only waste product created during this is water. This technology will play a leading role in future, primarily due to the advantages it offers in terms of short refueling times and long ranges (similar to those of combustion engines).
A lot has been achieved in recent years in the area of fuel cells, with development of the technology now being so advanced that it is ready for series production. However, plants for major series production are still unavailable.
EBZ provides process-reliable, high-quality systems for the assembly of fuel cells and fuel cell stacks. Cooperation with the Center for Solar Energy and Hydrogen Research Baden-Wuerttemberg (ZSW) and interaction with the industry means that EBZ has a deep understanding of the product, contributing greatly to the planning of production systems.
Direct manufacturing of membrane electrode assemblies (MEA) and/or bipolar plates (BPP) is possible in these production facilities

MEA / MEFA manufacturing, incl. cutting and separation

BPP manufacturing, incl. welding, cleaning, leak testing, seal application, etc.

Visual inspection of all components

Stacking, aligning, pressing, clamping

End of line tests (EOL) such as leak testing (helium), flow testing, insulation testing, etc.

Conditioning of fitted fuel cell stacks

Planning of research project with ZSW, HyFab, NOW, NIP II
Your contact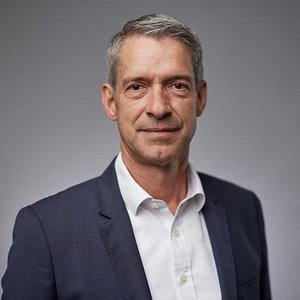 Henrik König
Sales Management