We love a challenge.
And we really get going where others have already given up.
CEO
Thomas Bausch completed his apprenticeship at Mercedes-Benz AG in Sindelfingen where he remained for the first eleven years of his career. Together with Reiner Lotze, Thomas Bausch established Bausch & Lotze GmbH in Ravensburg in 1993. Under the leadership of Thomas Bausch, EBZ developed rapidly to become an internationally active enterprise with further locations both at home and abroad. Even after the takeover of the ThyssenKrupp Drauz Nothelfer plant Ravensburg by EBZ in 2008, Thomas Bausch remains the CEO and majority shareholder of the EBZ Group and is, additionally, responsible for Group sales.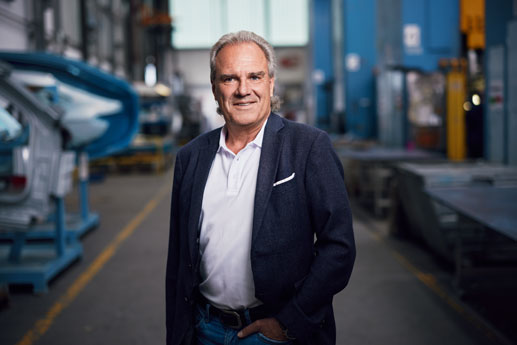 Board member (COO)
After studying mechanical engineering at the Berufsakademie Ravensburg in the area of commissioning and process development of laser systems, Alexander Schmeh joined ThyssenKrupp Nothelfer. Following a variety of project and department management roles in the company, Alexander Schmeh was part of the management buy-out during the takeover of the ThyssenKrupp Drauz Nothelfer plant. Alexander Schmeh has been a member of the board since then for technical divisions and is, additionally, the Managing Director of EBZ SysTec GmbH.
Board member (CFO)
Markus Müller began his career in the EBZ Group in Ravensburg after studying business administration at the Baden-Wuerttemberg Cooperative State University, and in management control systems at Zeppelin Systems GmbH in Friedrichshafen as the Head of Finance and Accounting. Markus Müller has added his strength to the Management Board team since October 1st, 2013 and is responsible for the entire commercial area.