Battery systems for high-performance applications
We develop and manufacture lithium-ion battery systems for a variety of applications.
The focus is on lithium-titanate battery systems (LTO). We can also provide NMC and LFP solutions, depending on customer wishes.
Battery systems provided by us are designed for very high performance. They are optimized for tens of thousands of cycles and designed for the most demanding applications. We place great emphasis on safety and a long service life in this context.
Since being established in 2014, more than 350 battery systems have been deployed in a variety of applications. The main application areas are trolleybuses and streetcars.
Advantages of a battery system with LTO technology:
Performance – continuous charging/discharging rate of up to 7C
Rapid recharging rate – only 5-10 min for a complete charge, even at low temperatures
High level of safety – LTO is distinguished by excellent levels of safety when compared to other battery technologies
Extremely long service life – up to 39,000 cycles at 80% DoD reduces the TCO (total cost of ownership)
Broad operating temperature range – from -50°C to +65°C
Development and production of battery systems to meet customer requirements
Innovative energy storage systems, from small quantities to large-scale series production:
Individual understanding for the needs of the customer

Development and prototyping
Design and simulation

Production of individual systems, small and larger series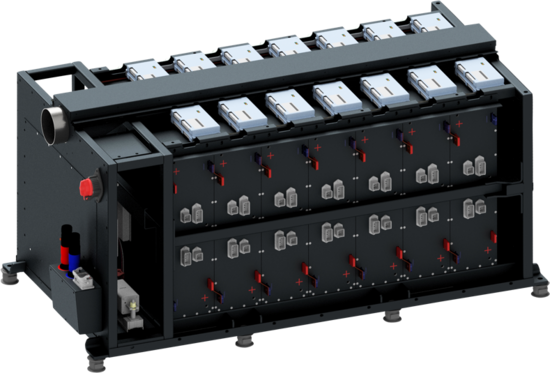 Further information on battery assembly