FAQs regarding working at EBZ
Which values pervade people in the EBZ Group?
As an enterprise, EBZ is a global player – with deep roots in Ravensburg. This encourages our healthy growth and allows our employees to develop on a global level. We share a high level of enthusiasm for technology, the drive to actively shape progress rather than merely support it and the awareness of achieving success in a team. We create a working environment that stimulates our curiosity and, indeed, our passion. Only a flexible approach to our customers' applications will enable us to master them. This is why employees come to us who know their skills, have a thirst for knowledge and wish to develop further. We secure this innovative spirit and the future viability of our company through a sustainable and targeted education and training policy.
What can I expect as an employee of the EBZ Group?
The owner-managed business group is particularly distinguished by a combination of traditional SME values and an innovative development spirit. We offer our 1,800 employees the operating environment of an internationally active enterprise while, simultaneously, encouraging personal and familiar dealings with each other. Our decision-making channels are kept short, and we offer a flat organization and individual career and development opportunities. The we-feeling is at the core of the EBZ Group, with open, honest and direct dealings being just as important for us as individual freedom of action, responsible tasks and working in international teams, both at home and abroad.
Which additional benefits are offered to employees?
As an EBZ employee, you profit from numerous additional benefits such as vacation pay and a Christmas allowance, profit sharing, subsidized company pension scheme benefits, 30 days annual leave, flexible working hours models, individual development opportunities, a broad range of health and sport activities such as e-bike leasing and fitness courses, employee events such as the summer and Christmas parties, a variety of employee discounts, canteens with inexpensive menus, an EBZ hut in the Austrian skiing resort and hiking region of Damüls, and much, much more.
Welche Entwicklungsmöglichkeiten gibt es für Mitarbeiter?
Wir begleiten unsere Mitarbeiter von der Ausbildung oder vom Berufseinstieg über die gesamte betriebliche Karriere hinweg mit passenden Entwicklungs- und Weiterbildungsangeboten. Diese stimmen wir individuell auf die Anforderungen des Tätigkeitsbereiches sowie auf die persönlichen Bedürfnisse und Interessen ab. Unabhängig davon, ob Fach- oder Führungskarriere, wir fördern den kontinuierlichen Erhalt und die stetige Erweiterung Ihrer Kompetenzen durch vielfältige Qualifizierungskonzepte:
Berufsbegleitende Fortbildung zum Meister (m/w), Techniker (m/w) und Master

EBZ Nachwuchsförderprogramm

Individuelle Qualifizierungspläne
Hausinterne Seminare zu fachspezifischen Themen sowie zu Sozial- und Methodenkompetenzen, wie beispielsweise Präsentationstechnik, Zeitmanagement, Kommunikation- und Konfliktmanagement

Schulungen im Bereich der Arbeitssicherheit

Wöchentliche Sprachtrainings

... und vieles mehr
Contact
Bei Fragen zum Arbeiten bei EBZ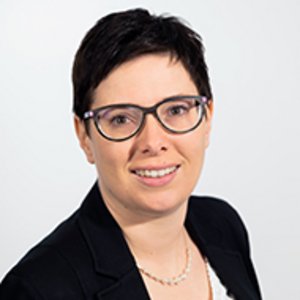 Daniela Feeser
Talent Management Team Leader